Last Fall, we wrapped up our IMLS Museums for America grant called "Strategic Stewardship for Sustaining the Archives of the Museum of Vertebrate Zoology". It allowed us to address long-term needs of the archives including critical housing and preservation issues for our most fragile materials. This included converting a collection room from general purpose storage to a dedicated Archives Collection room.
Before, it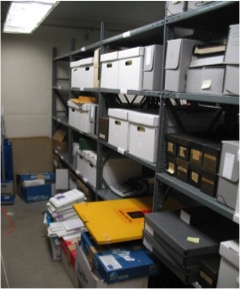 was used for storing pretty much anything: reprints, old administrative files, excess paper, party and event supplies, vacuum cleaners, even dead computers! The shelves were bolted and fixed creating cramped aisles.
We removed everything, found more appropriate storage for all the materials (don't worry, we didn't throw out all the CalDay supplies!) and started work.
This meant that the museum staff had to endure almost of year of boxes and storage carts in almost every conceivable place in the museum while the room was upgraded with high density shelving on rails.
We chose handsome blue endplates for our new units to break up the white of the walls, shelves and concrete floors. Continue reading →